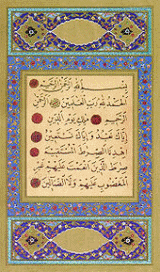 Islam
Posts 1 - 7 of 7
shirazah
How to find happiness
replied to: shirazah
arifmian786
Replied to: How to find happiness
By accepting wholeheartedly whatever happens to you; though you may do efforts to undo it, if it is unpleasant.
replied to: shirazah
ali110
Replied to: How to find happiness
Some people chose music, some people go drunk,some ...

but happiness can just be found in humans heart!when you trust that what you do is right.when you sure you have one who you can always rely on,the one always watching you,then there is nothing to worry cause every thing have reason.
do not forget the others sometimes you are the only one who can help them,make them happy then you will feel happiness in your life.

replied to: shirazah
farhaanjum8
Replied to: How to find happiness
Happiness lies in the zikr of Allah
replied to: shirazah
Hera
Replied to: How to find happiness
Let other be happy, Don't poke in others matter.
Make your self a person whose presence make other happy :)
and try to avoid things :)
You will be happy InshaAllah:)

replied to: shirazah
sanjidah
Replied to: How to find happiness
Obey all order of Allah,i mean obey the hole Qur,an you can find happiness in your personal and collective life.
replied to: shirazah
Arfatzafar
Replied to: How to find happiness
Shru Allah ke naam se:
Quran says: Ala bi zikrillahi tatma'innal quloob: it purports that peace of hearts is in Zikr of Allah.
Always seek the help fm Allah n dont expect that somebody will help u in need whether he is ur close relative.
If any problem occurs always say that Allah will help me.
Make ur heart strong n brave never fall to aught which disturbs or thwarts u. Dont worry everything will be alright.
Be optimist. Never think negative.
Share ur time with ur elders n take their advice if needed.
Start ur day early in the morning n make ur life longer.
never make enemy. Be a friend n let others be ur friends.
Forget mistakes of others. Forgive them, even if sombody has harmed u. How long u will keep grudge or animosity in ur heart.
Life is too short to love how one can spare the time for hatred.
Help others.
It's my personal experience. Just follow my advice n spend a tension-free life.
May Allah give a perfect life to u in this world n hereafter.