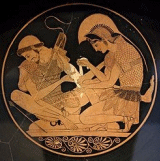 Greek mythology
Posts 1 - 2 of 2
greekie
...
replied to: greekie
mythfan
Well that depends on your knowledge about fates and greek mythology.

I would definitely mention that the fates decided the life span of mortals, who would be saved and who would die, but they were looking upon mortals who were determining their fate by making right or wrong choices in their life. So basically your free will determines your fate. Something in this direction...

I hope that helps...