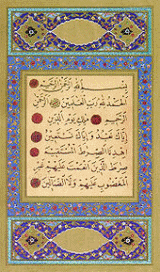 Islam
The Right Path. The God's Religion includes the Islam too, as it includes the other ones
Posts 1 - 2 of 2
whiten
The Right Path. The God's Religion includes the Islam too, as it includes the other ones
replied to: whiten
whiten
Replied to: The Right Path. The God's Religion includes the Islam too, as...
In the above topic,the definition of "The God's Religion" is; 'the help of God to man as in (through) the holly or divine scriptures and Koran' (as the discussion been in English,the reference is in English:"Koran").

Also the definition of the "The Right Path" (regarding the above topic)it is the same one.

Beside this the discussion on the topic it is very open and inviting to any way of thinking,ideas,information and debate.

Any one who has some thing to say,to share(thoughts,ideas,arguments,objections)or ask about, is invited to participate.

As religion been a sensitive issue (especially these days),please do try to keep the discussion as civilized as possible.

Thank you.