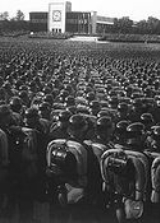 World War II
Posts 1 - 13 of 13
eval
What were the main reason why world war II occured?
replied to: eval
Kerim
Replied to: What were the main reason why world war II occured?
Hi partner in life on our dear planet earth,

Just look at what happened after WW1 then WW2 in the world, you might know why people were made/forced to hate/kill each other.

But to discover any real truth, one should be a real neutral observer/analyser, exactly as a scientist does while analysing the results of an experiment. Are you able to be that person :)

In fact, the same question is now asked by many around the world of why terror against civilians was allowed to be spread in many countries since 10 years. This type of terror is indeed much worse than a conventional war. And what is surprising is that no religions, beliefs or cultures, from all parts of the world, bless, in any way and for any reason one may imagine, the random killing of civilians. Please if I am wrong just correct my saying by giving me one example in the least. But these crimes do happen almost daily during the last decade. Why and by who? I mean by who; the ones who are supporting the crime doers that most of them cannot afford to buy a gun while holding on them or in a car hi-tech bombs costing many thousands of dollars!

In brief, the answer about our actual situation won't differ a lot from the answer you are looking for about WW2.

Kerim

replied to: eval
Debsky
Replied to: What were the main reason why world war II occured?
Some one already replied with a lot of blather without answering the question. there are a multitude of reasons for World War II. The treaty ending World War I, 'the war to end all wars' decimated the German economy. You have seen pictures of a wheelbarrow full of Deutch Marks to buy a loaf of bread. The German economy was in ruins, it's politics in turmioil, and a vaccum in its leadership. Many Germans who were in uniform during WWI were firm in the belief they were betrayed. Many started political parties some good, some not so good. The German Workers Party became the National Socialists German Workers Party in the early 1920's long before Hitler entered the picture. When a country is literally prostrate as Germany was thanks to the Treaty of Versailles even worse than the rest of the world that was hit by the depression, something has to give. People joined groups to try and better things. Hitler was very charismatic and exactly what the German people needed to come together. Unfortunately, he gained power through constitutional means in the 30's and the then President von Hindedburg pretty much turned the reins of power over to him. When in power, he vowed to make Germany strong again so she could take her rightful place in the community of nations. He first started by refusing to pay reparations for WWI, said screw it to the Versailles treaty, started re-arming secretly which put a lot of people back to work. While all this was going on he courted the big money businesses of Germany as well as the military and got them on board withh his 'vision' of where the country was going. When he started making moves of acquisition, he had already re-armed Germany when other countries were doing the exact opposite after WWI. When he made his moves into Austria there were loud protests by France and England but they were literally caught with their military pants down so they tried to keep him reined in by talk. But, the more the other European governments, blathered, the more he took until it came to a head. The beginning of the war, Blitzkrieg, the English Channel is the only thing that saved England- everyone else pretty much went the way of Poland- over run and defeated within days of Panzers crossing the border. But at times Panzers were fighting lancers on horsebaack. With Hitler re-arming Germany on the sly all through the 30's when everyone else, even the United States, was letting their military go to seed meant Germany had state of the art weaponry unlike the rest of the European nations. France thought she was safe behind the old style military 'Maginot Line' only to find the Panzers went around the bunkers. Hitlers generals were something else, and, there is a good chance that if he had stayed out of the running of the war, Europe would be united and have one language today- German. But, while Hitler was a POLITICAL genius, his abysmal military planning was his downfall, thank the gods. And, like is said about a genius being but a fine line from insanity, he crossed that line big time.
There are those that say 'war is never the answer', but there was no other way Hitler and his united Germany could have been stoped short of him just running out of territory to conquer. He wanted Europe, Russia, the Mid-East and England. He killed anyone who got in his way as Rhoem and others in the German Workers Party found out on Crystal Nacht. Once a nations military pledges to an individual, it is just a matter of time before the 'cult of personality' goes bad. No ONE thing started the war, as with all things, there are many reasons, many which will neve be fathomed. Why did Hitler hate Jews, why did he make a treaty with Stalin then invade. Why did he start the second front even when his generals said it would lead to failue, why did he do a lot of things- we will never know. But the conditions of a nation and its people can be time-lined and studied so such can never happen again. Those who do not learn history are fated to relive it; here is hoping WWII is never repeated.
replied to: Kerim
Challenger
Replied to: Hi partner in life on our dear planet earth, Just...
Kerim,

You have no idea what you are talking about. There are so many things that you do not know and would not understand if you did. You have no logical arguments, no insight into human behavior, especially by the power hungry and greedy and insane. If your point is that we should pray for peace then just say it. That is a noble, defensible position. You are simply tossing out a bunch of unrelated examples of the troubles in our times and attempting to form that into some sort of moral high ground message.

If you want peace, then be clear, concise, and to the point. Then go out into the real world and work for it. Become a lawyer so that you an be a Congressman or Legislator or Senator or someonme with a real shot at making real efforts in the way this world works.

WWII started for countless reasons, like all wars, they resemble aircraft accidents. Many things fail first, most often people.

Say what you mean and mean what you say and quit clocking in all in doublespeak. You may find that you have more supporters that way.
replied to: eval
Challenger
Replied to: What were the main reason why world war II occured?
Too numerous to count, too sublime to say, and too confusing to really know. Perhaps it all boiled down to feeling threatened by the rest of the world? Germany had always thought, and they were right, that they had been given a very bad deal in the Armistice that was signed at the end of WWI. There were some 184 paragraphs in that document and 180 of those dealt with punishing Germany for starting and propagating WWI. They felt beat down with no way out. A hard position for a once proud and successful Germanic war machine that had their share of victories in the middle and dark ages.

Germany felt they also needed expansion and control to alleviate their problems.

Mussolini simply wanted to be the next new Roman Cesar so he was hanging onto Hitler's coat tails. He was along for the ride as long as the ride would last. He had no exit strategy; he forgot that Italians are much better lovers than warriors.

The Japanese felt like they were being isolated from the International Steel and Oil markets. And, they were. As an island nation they were dependent on others for all of the basic needs of a growing, industrialized, nation. One more problem, where to put all of the growing population? They needed to expand to fulfill all of those needs. They first expanded into China where they proved to be very nasty occupying forces. They used live Chinese prisoners tied to stakes as bayonet practice for boot camp training.
One old tried and true way to pull together a faltering nation with its citizens locked into internal bickering and class wars is to find an outside opponent and rally your people against them instead of letting them fight one another.

The USA is often the target of that behavior today. In the Mexican drug war more than 30,000 people have been murdered in the last 8 years. That is more than SIX times the number of Allied soldiers killed in combat, in two war zones, in TEN YEARS. Yet when the President of Mexico visits the USA he says the drug wars are America's fault. Go figure.

Wars start because some want revenge, some need more territory, some need access to natural resource, and some are simply greedy megalomaniacs tagging onto people who have managed to maneuver their way into the new, Third Reich. The one that will last 1,000 years at least.

replied to: Challenger
Kerim
Replied to: Kerim, You have no idea what you are talking about....
Challenger,

I am sorry that our logic and knowledge doesn't seem to have anything in common.
On the other hand, what will we gain in proving something is right or not?... nothing I guess.
While you prefer seeing some men on power as insane since they are irrational, I see them all as very talented actors playing (in all so-called opposing sides, regional or international) just in one global movie, known as politics. Each of them has to fill a role (like in The Good, the Bad and the Ugly) so that their global scenario looks real for all people around the world. So I can't see any politician as a liar or a bad person because I have never expected actors all playing roles of a good guy to make an interesting movie.
I have no intention to hurt your feeling in any way... If someday we may meet in person you would know on which facts what I am talking about is based. Meanwhile we have no choice but to live as strangers since it is not wise to say any complete truth on the internet.

replied to: eval
TruthandJustice
Replied to: What were the main reason why world war II occured?
THE MAIN REASON WAS THE FELT NEED OF GERMANY AND JAPAN THE 2 MAIN AXIS POWERS TO SEEK LAND, WORKERS AND NATURAL RESOURCES THAT THEY DID NOT HAVE IN THEIR COUNTRIES. THEIR MILITARIES WERE ALLOWED TO TAKE CONTROL OF THEIR COUNTRIES AND THESE GREEDY POWER HUNGRY PEOPLE WHO CARED NOTHING , REALLY ABOUT THEIR OWN PEOPLE, USED FORCE TO GET WHAT THEY WANTED. IN STEAD OF STOPPING BEFORE OTHER COUNTRIES FELT THREATENED THEY PUSHED UNTIL THEY WENT TOO FAR. THEN THE WORLD WAR BEGAN.
THIS IS THE MAIN REASON VERY SIMPLE AND TRUE.
replied to: eval
jaradroberts14
Replied to: What were the main reason why world war II occured?
Well the americans got in world war 2 because the bombing in pearl harbor so thats why it was started it was men't for the japanes and the germans
but the japs bombed peral harber with shollow water torpetoes
replied to: TruthandJustice
jaradroberts14
Replied to: THE MAIN REASON WAS THE FELT NEED OF GERMANY AND...
Well your mostly right but you forgot to mention why the americans got in the war it was ment to be germans and japanes but the japs bombed the american were they were staying at [ peral harbor]
replied to: Debsky
RayeJay425
Replied to: Some one already replied with a lot...
Next time, sum the paragraph up. You just drone on. That's not something we people look for. We look for short, but detailed paragraphs

replied to: eval
Explorer72
Replied to: What were the main reason why world war II occured?
Debsky pretty much nailed it on the head.

One reason not mentioned was Nazi Germany's hatred of Communist Russia. Two totalitarian regimes, both distrustful and hateful towards the other. Hitler's original plan for WWII was to absorb the other nations of continental Europe into a "Greater Germany". He would then leave England alone, and consolidate all his forces and use them in a one-front war against the East, conquering Russia and using her vast mineral resources in Siberia to stabilize and strengthen Greater Germany. The United States would be forced to keep out of Europe's affairs. There is also evidence that he would have restored Edward VIII (who was a Nazi sympathizer) to the throne of England as a puppet king.
With the threat of Russia gone and all of Europe under the control of the Nazis, Hitler's Reich would then be free to thrive. What would have happened after that is anyone's guess.


replied to: Explorer72
Drake
Replied to: Debsky pretty much nailed it on the head. One...
The hatred of Germany and the Russians is correct. The greater Germany and Edward V111? Pure fantasy.Even if Japan had not bombed pearl Harbour the USA would have entered the war.America! would never miss out making a vast fortune, as they did anyhow,with the British.
England,the Empire and France declared war on Germany.When the Reich invaded Poland, not Belgium.
replied to: Drake
Explorer72
Replied to: The hatred of Germany and the Russians is correct. The greater...
In any case, the Germans did not want war with England. Firstly, they did not want to get drawn into another two front war; secondly, they saw England as a country with whom they had common blood.

I don't know if the US would have entered the war without being provoked. Russia would certainly have come in at some point; Stalin would not have stuck to the Non Aggression Pact any more than Hitler did.

"Greater Germany and Edward VIII pure fantasy"

The notion of Germany conquering the entire European continent and consolidating all Germanic people under the banner of a "greater Germany" was the fundamental plan.That is a matter of record. They nearly achieved it. The fact that you would call it pure fantasy reveals your abysmal lack of knowledge on a subject that you chose to take part in a discussion on. You must be very proud.

If you need to consult sources on Edward VIII's wartime sympathies and activities, there are written sources I can cite for you that are also on record. Another good source is the documentary "Edward VIII: The Traitor King". These are not conspiracy theories put out by the lunatic fringe. They are history.