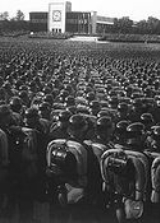 World War II
Posts 1 - 3 of 3
pollystaxi53
When did the axis members surrender
replied to: pollystaxi53
meerocks
Replied to: When did the axis members surrender
Germany surrendered between May 4 and May 9 in the year 1945. However, V-E Day (Victory in Europe) is considered the real date, which is May 8, 1945.

Italy surrendered first on September 8, 1943. Japan was the last nation to surrender on August 15, 1945.
replied to: pollystaxi53
Hunter464
Replied to: When did the axis members surrender
Bulgaria, Rumania, Hungary etc. all surrendered at different times. Which ones are you interested in or would you want thime complete list?