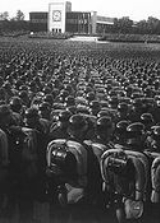 World War II
Posts 1 - 3 of 3
smitty1
Who was the French and Canadain dictators during world warII
replied to: smitty1
Turnkey
Replied to: Who was the French and Canadain dictators during world warII
I'm not sure about Canada, but there wasn't a dictator in France. Nazi-occupied France was put under a puppet government with various French collaborators 'in charge' such as Marshal Pétain.
replied to: smitty1
Drake
Replied to: Who was the French and Canadain dictators during world warII
France and Canada were and still are democracy's.In 1940 the French President was Paul Reynard.Canada's Prime minister was William Mckenzie King.
Not forgetting that France after being defeated were split into into two separate two countries. France and Vichy France.