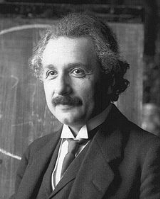 Albert Einstein
Posts 1 - 2 of 2
bbosset

what college did einstein attend?
replied to: bbosset
pollyflinders
Replied to: what college did einstein attend?
Please allow me to tell you a little more than you asked. The following story receives so little attention that I hope you (and perhaps others) will reflect on it.

Einstein attended the Zurich Polytechnic where he studied alongside the likewise-brilliant woman who was to become his wife, Mileva Marić. She and Einstein both enrolled in the teaching diploma course in physics and mathematics. Of the 6 students taking the courses, she was the only woman. As she and Einstein shared the same classes, they typically studied together. They also read extra (non-assigned) physics texts and discussed their questions and ideas with one another.

Their friendship grew into a romance which resulted in an unplanned pregnancy. Sadly this ended Marić's aspirations to earn her Ph.D. in physics. Faced with the enormous shame of being an unwed mother in 1901, she withdrew from her studies and returned to her family in Serbia. There in early 1902, without Einstein at her side, Marić delivered their daughter, Lieserl. Einstein evidently never met their daughter, and her fate is unknown. However Marić remained in Serbia while Einstein completed the course of study they had shared.

By 1903, Einstein had graduated and secured employment, and the young lovers married. Soon after, another two pregnancies followed, and Marić fulfilled her role as wife and mother. Consequently the world will never know what might have been had both of the enormously-gifted physicists graduated from the Zurich Polytechnic and, whether together or apart, continued to pursue their dreams.