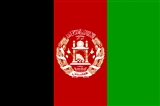 Afghanistan
Topics
Afghanistan
Timeline
Timeline
1760 Afghans defeat Marathas in the Battle of Barari Ghat.
1761 The Third Battle of Panipat is fought in India between the Afghans under Ahmad Shah Durrani and the Marhatas. The Afghan victory changes the course of Indian History.
1919 Afghanistan gains full independence from the United Kingdom.
1946 Afghanistan, Iceland and Sweden join the United Nations.
1973 King Mohammed Zahir Shah of Afghanistan is deposed by his cousin Mohammed Daoud Khan while in Italy undergoing eye surgery.
1979 In Kabul, Muslims kidnap the American ambassador to Afghanistan, Adolph Dubs who is later killed during a gunfight between his kidnappers and police.
1979 In Afghanistan, Maoists undertake an attempted military uprising.
1979 Soviet Union invades Afghanistan
1982 The Salang tunnel fire in Afghanistan kills up to 2,000 people.
1983 Soviet war in Afghanistan: The United Nations General Assembly passes United Nations Resolution 37/37, stating that Soviet Union forces should withdraw from Afghanistan.
1988 In a United Nations ceremony in Geneva, Switzerland, the Soviet Union signs an agreement pledging to withdraw its troops from Afghanistan.
1988 Soviet war in Afghanistan: After more than eight years of fighting, the Red Army begins its withdrawal from Afghanistan.
1989 The American embassy in Kabul, Afghanistan closes.
1989 Soviet Union invasion of Afghanistan: The Soviet Union officially announces that all of its troops have left Afghanistan.
1990 An earthquake with its epicentre in Afghanistan results in the greatest number of fatalities in a mountaineering accident in High Asian mountains when an avalanche kills 43 climbers in Camp I on Pik Lenina (Lenin Peak).
1996 In Afghanistan, the Taliban capture the capital city Kabul after driving out President Burhanuddin Rabbani and executing former leader Mohammad Najibullah.
1998 An Afghan cargo plane crashes into a mountain in southwest Pakistan killing more than 50 people.
1998 An earthquake measuring 6.1 on the Richter Scale in northeast Afghanistan kills more than 5,000.
1998 A magnitude 6.6 earthquake hits northern Afghanistan, killing up to 5,000.
1998 Two hundred aid workers from CARE International, Doctors Without Borders and other aid groups leave Afghanistan on orders of the Taliban.
1998 U.S. embassy bombings: the United States launches cruise missile attacks against alleged al-Qaida camps in Afghanistan and a suspected chemical plant in Sudan in retaliation for the August 7 bombings of American embassies in Kenya and Tanzania.
1998 A court in Taliban-controlled Afghanistan declares accused terrorist Osama bin Laden "a man without a sin" in regard to the 1998 U.S. embassy bombings in Kenya and Tanzania.
2001 The Taliban destroys two giant statues of Buddha in Bamyan, Afghanistan.
2001 Ahmed Shah Massoud, leader of the Northern Alliance, is assassinated in Afghanistan by two al Qaeda assassins who claimed to be Arab journalists wanting an interview.
2001 Journalists Pierre Billaud, Johanne Sutton and Volker Handloik are killed in Afghanistan during an attack on the convoy they are traveling in.
2001 Burhanuddin Rabbani, political leader of the Afghan Northern Alliance, hands over power in Afghanistan to the interim government headed by President Hamid Karzai.
2002 U.S. invasion of Afghanistan: Operation Anaconda begins in eastern Afghanistan.
2003 NATO takes over command of the peacekeeping force in Afghanistan, marking its first major operation outside Europe in its 54-year-history.
2004 President Hamid Karzai signs the new constitution of Afghanistan.
2005 War in Afghanistan: Three U.S. Navy SEALs and 16 American Special Operations Forces soldiers are killed during Operation Red Wing, a failed counter-insurgent mission in Kunar province, Afghanistan.
2005 2005 Kashmir earthquake: Thousands of people are killed by a magnitude 7.6 earthquake in parts of Pakistan, India and Afghanistan.